INJURIES AND DISEASES

WE HELP YOU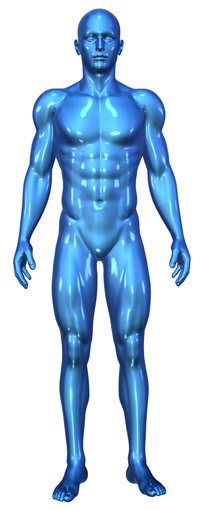 WHERE DOES IT HURT?
CLICK ON THE BODY REGION

We developed this rubric so that you can learn about potential causes of your pain or functional limitations online in advance of a consultation.
Depending on your painful joint or affected body region, click on the pulsating point of the blue anatomical figure. This will take you directly to the most frequent diseases and injuries and their respective diagnostics and treatment options.
We hope this model representation organized by body region will provide you with a helpful initial overview. You will find even more information in our orthopaedics glossary.
DIAGNOSTICS AND THERAPY AT OUR PRACTICE

WHAT CAN WE DO FOR YOU?
"If you want to stay strong, healthy and young and prolong your lifetime, be moderate in all things, breath pure air, care for your skin and partake of exercise daily, keep your head cold, your feet warm and cure a small ache by fasting rather than by medicines."
Hippokrates
Our practice team is young, dynamic and sincerely friendly. As a patient, athlete or sports lover, you are at the focus of all we do. Find out more about our excellently trained team and who's responsible for what tasks.
So that you can get well informed online before your consultation with one of our specialists, we have created a link for you to peruse a comprehensive orthopaedic glossary.
You would like to schedule an appointment? You can do this in a variety of ways: for example conventionally by phone (a special telephone number is available for appointments during private office hours) or conveniently online. We also welcome your inquiries sent by email or fax.