Modern Orthopaedic
and Trauma Surgery
Practice Dr. Mahn in Bad Vilbel, Germany
Our Practice at the gates of Frankfurt

Who we are and what we do
Our practice boasts a highly motivated, well-educated team consisting of physicians, medical care assistants and nurses who aim to be at your service by providing top-notch care. Accordingly, our practice is equipped with high technology. It has been designed with great emphasis on providing an aesthetically appealing ambiance for our patients so that they feel at home at all times with us. All of our employees have internalized our special service-oriented philosophy.
Our areas of specialty cover the entire diagnostic and conservative therapeutic spectrum of orthopaedics, trauma surgery and sports medicine. In the surgical disciplines, our practice in specialized in arthroscopic and minimally invasive knee surgery (Dr. Mahn's specialty). Furthermore we treat sports injuries, work injuries and offer non-operative care of spine disorders and fractures.
We are constantly looking for modern forms of therapy that are as gentle as possible, cause as little limitation to the patients as possible, but achieve the best clinical outcomes. Our clients are encouraged to get involved in the planning of their individualized treatment strategies. Some examples for innovative forms of therapy that should be mentioned here include SpineMED therapy developed in the USA, ACP therapy, but also shock wave therapy with medical devices of the latest generation.
"Take the first step and the pathway will unfold before you."

Martin Walser
OUR BOARD-CERTIFIED SPECIALISTS
COMPETENCE AND EMPATHY

Our physicians are ideally qualified to offer you a broad spectrum of care, diagnostics (only exception: sonography of the neonatal hip) and therapy. Through continuing medical education, we stay up to date on the current state of knowledge. Our physicians also work as instructors in their special fields: notably, Dr. Mahn is an AGA arthroscopist for minimally invasive/arthroscopic knee surgery ("key-hole technique").
We hope you will show some understanding when waiting times for an appointment take a little longer. This is particularly due to Dr. Mahn's additional work as team physician for the German Football Association in taking care of the under-18 national team. Nevertheless, the practice is essentially always staffed by a physician. We are there to take care of you at any time, but especially in cases of emergency.
You would like to schedule an appointment directly?
Diagnostics
Our diagnostic methods are based on comprehensive physical examinations and the use of the latest medical technology — all of which let us render accurate diagnoses for providing the best possible therapy. We place particular emphasis on high-quality equipment. Starting in early 2017, an open state-of-the-art MRI scanner will join our fleet of devices, improving our technological options for you in this regard even further.
Therapy
Every treatment is initiated by planning an individualized therapy with maximum involvement of the patient. In each case, we try to proceed using as gentle means as possible and draw upon the body's own self-healing powers. In the majority of cases, non-operative treatment (i.e. without surgery) can achieve recovery or healing.
Surgery
Surgical interventions, mostly performed under general anesthesia or regional anesthesia, are not always avoidable. But even then, you shouldn't be afraid. We will structure your day of surgery to provide you with the greatest of comfort. The superlative specialization of our surgeons, experienced anesthesiologists coupled with comprehensive service will make things as pleasant as possible for you.
Our Spectrum

Broad and Specialized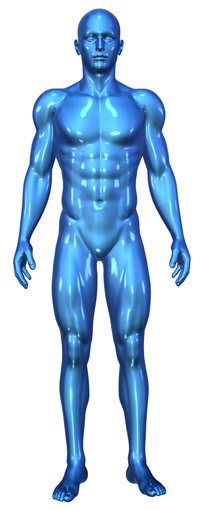 Our concept is to offer you very broad-based diagnostics and therapy aimed at giving you the ideal care in all types of emergencies in the field of orthopaedics and trauma surgery or involving sports injuries. Additionally, we are highly sub-specialized in fields like arthroscopic knee surgery. "Broad and specialized" is therefore not a contradiction in terms with us. For a glimpse at our field of operation and an overview of the services we render, click the pulsating point on a specific body part or region of the blue anatomical figure to the left. Each link will take you to a more detailed explanation.
Our practice team is young, dynamic and always friendly. As patient/athlete you are at the focus of all we do. Find out more about our excellently trained team and who's responsible for what tasks.
So that you can get well informed online before your consultation with one of our specialists, we have created a link for you to peruse a comprehensive orthopaedic glossary.
You would like to schedule an appointment? You can do this in a variety of ways: for example conventionally by phone (a special telephone number is available for appointments during private office hours) or conveniently online. We also welcome your inquiries sent by email or fax.