An accurate Diagnosis

The Basis for successful therapy
Our Spectrum of Diagnostics

That's something you can bank on
Many underestimate the field of diagnostics. However, it is only with exacting diagnoses that we can recommend and perform the best possible therapy. Therefore, we place particular emphasis on high-quality equipment. In May 2017, a state-of-the-art open MRI scanner joined our fleet of equipment, improving our technological options for you in this regard even further.
The physical examination
The physical examination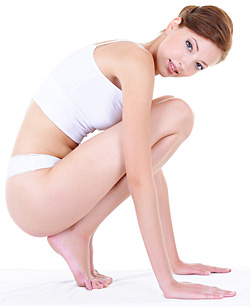 The basis of each diagnosis is a comprehensive symptom-related and/or whole-body examination backed up by the corresponding clinical tests. This approach in conjunction with specific medical history taking (anamnesis) allows early diagnosis of many diseases and injuries.
For clarifying further question, our practice employs state-of-the-art imaging methods—ranging from digital X-ray through ultrasound/color Doppler ultrasonography extending to radiation-free spinal measurements.
Merken
Merken
Digital radiography
Digital radiography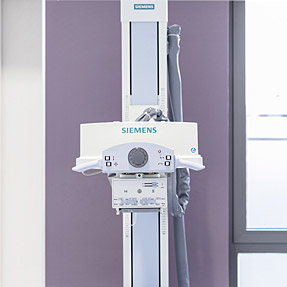 Our practice exclusively employs a digital X-ray machine of the newest generation (Siemens Multix Select DR, manufactured in 2013), for direct digital radiography. This reduces the radiation exposure to the patient considerably. Furthermore, the technical post-processing and magnification options produce markedly higher diagnostic certainty. The fact that the X-ray images are available in digital format also makes it easier to transfer them electronically, while simplifying communication among the attending physicians.
Merken
Merken
Sonography / ultrasound / color Doppler ultrasonography
Sonography / ultrasound / color Doppler ultrasonography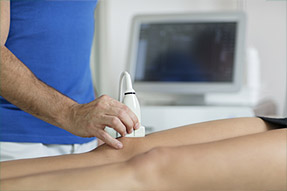 Our practice is equipped with a color ultrasound device with Doppler function as well as two black/white sonography devices of the newest generation. This radiation-free method considerably facilitates diagnosis and frequently allows us to refrain from X-rays. Particularly in the case of questionable bone fractures in children, an ultrasound examination can make an X-ray study superfluous. For dynamic functional examinations, sonography may even be superior to the MRI scan, for example, in shoulder diagnostics.
Merken
Sport-Check
Sports check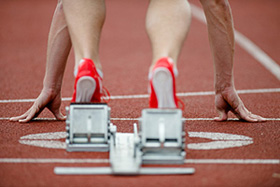 With our sports check, we aim to offer our patients and clients the best possible and well-founded evidence to guide the planning of physical exercise.
A diverse range of people with a wide range of issues come to receive treatment by us. The spectrum ranges from examinations for sport fitness in childhood through performance testing of squad athletes to providing advice on "total joint replacements and sports", mostly in elderly patients after artificial joint replacement.
Depending on the request of the clients, a sports check consists of different examinations like "orthopedic joint examination", "back function check", "athlete laboratory", "ECG" etc. through to sports discipline-specific performance tests.
Foot pressure measurement (pedography)
Foot pressure measurement (pedography)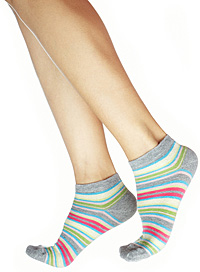 Foot pressure measurements may be useful for prescribing orthotic insoles or for functional and static analyses in professional athletes. This procedure measures how much load is applied to certain positions on the plantar sole.
The results of such foot pressure measurements are additionally used to fabricate customized and high-quality orthotic insoles, for example, or to improve athletic performance. Similarly, diabetic patients can especially benefit from the optimized pressure distribution afforded by orthotic insoles customized to fit the individual patient's feet.
Over the past years, our experience has shown that it is advantageous when the foot pressure measurements are carried out directly at the pedorthic retailer's or by the master orthopedic shoe technologist who then also fabricates the orthotic insoles.
Merken
Treadmill analysis
Treadmill analysis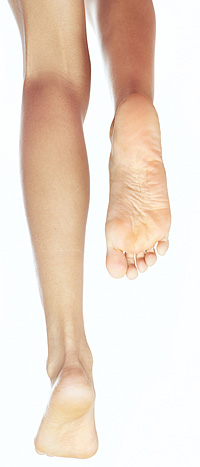 Treadmill analysis is an important component of exercise optimization, not only for track-and-field athletes, recreational sportsmen and sportswomen, but for all individuals who enjoy getting exercise and want to improve their running style. This analysis is helpful for buying and fitting sports shoes or orthotic insoles as well.
The treadmill analysis uses a video camera to record the patient's motion patterns during running which are then analyzed. This produces data that are used for prescribing orthotic insoles or foot orthoses and for selecting running and other sports shoes. Treadmill analysis is done in cooperation with an orthopedic technologist (for space reasons, this is not possible in-house at our practice).
Merken
Radiation-free 3-D spinal measurements and back check-ups
Radiation-free 3-D spinal measurements and back check-ups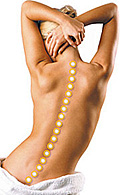 In our civilized society where most occupations are sedentary, the frequency of back problems is increasing annually. Back problems frequently lead to temporary work disability. Perfectly coordinated regular back-strengthening training, based on the measured results, can also promote markedly more efficient physiotherapy and back exercises.
In our practice, a complete spinal check-up consists of dynamic 3-D spinal analysis with testing for segmental mobility and postural competency. The results obtained can then be printed out and given to the patients for incorporation into their physiotherapy regimen or presented at their fitness center. In many cases, static 3-D spinal measurements may be useful in addition.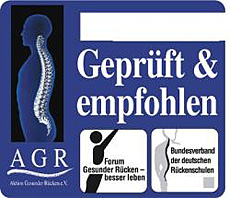 Determination of skeletal age or expected adult size in children
Determination of skeletal age or expected adult size in children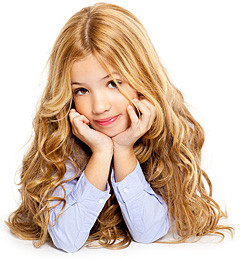 There are several options that can be used early in their life to estimate a child's expected body size after finalization of their growth phase. The simplest methods only reference the parent's body sizes. The final height of a child can be predicted more accurately according to the methods of Tanner/Whitehouse or Greulich/Pyle.
For this purpose, we X-ray the left hand. This X-ray, with the assistance of analytical software, can be used to determine the expected final height of your child. The method relies on the configuration of ossification centers. This can be particularly helpful whenever a growth disorder is suspected or to decide on a certain therapy. The aggregated results are reviewed by an endocrinologist and the corresponding therapeutic measures initiated as needed.
Merken
Bone mineral density
Bone mineral density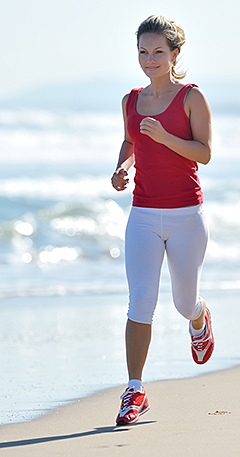 In the second half of life, bone mass and, with it, bone mineral density, tend to decline continuously. Particularly in women, if this loss in bone mass exceeds the normal extent, it is called osteoporosis. A patient suffering from manifest osteoporosis has a significantly higher risk for broken bones. This particularly applies to fractures of the vertebral body and femur.
The earlier such a pathological process is detected, the better it can be combated. In the early stages, therapy primarily consists of regular exercise and the intake of calcium along with vitamin D3. The more advanced stages of high-grade osteoporosis should be treated with targeted drug therapy.
Measurements of bone mineral density (osteodensitometry or DXA) are useful for early detection of osteoporosis as well as for monitoring its clinical course. Dual-energy X-ray absorptiometry (DXA) is performed externally because we no longer have enough space in our practice for this procedure.
Merken
MRI / Magnetic Resonance Imaging
MRI / Magnetic Resonance Imaging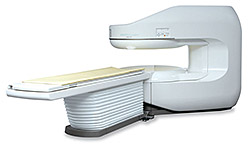 The invention of MRI scanners and the exceptionally good availability of these high-tech systems in Germany have markedly simplified diagnostics of the musculoskeletal system. Soft tissue injuries that previously remained the domain of radiographic imaging diagnostics can be very well identified by MRI. For example, an MRI scan is suitable for diagnosing tendon ruptures around the shoulder joint or also to verify a torn cruciate ligament around the knee joint. MRI provides us as orthopeadic surgeons with particularly helpful information in advance to identify concomitant injuries in a joint prior to any surgery, allowing us to plan the procedure more exactingly. MRI diagnostics uses a strong magnetic field and is entirely free of X-ray irradiation.
In May 2017, we inaugurated our exclusive open MRI based on state-of-the-art technology and surrounded by the ultimate in comfort. We are delighted to now be able to offer you a substantially expanded range of diagnostic options. For the citizens of Bad Vilbel, this represents the final completion of a comprehensive offering across all medical disciplines in the city and that the convenient option of being able to perform MRI examinations is now finally available locally.
Website of the open MRI in Bad Vilbel
Merken
Merken
"Alas, would that man be as transparent as a jellyfish and one could view the seat of his suffering."
Dr. Wilhelm Conrad Röntgen
"Since humans are not transparent, we have to rely on our clinical examination and render our diagnoses with the help of modern technical methods."
Dr. Holger Mahn
So that you can get well informed online before your consultation with one of our specialists, we have created a link for you to peruse a comprehensive orthopaedic glossary.
Our practice team is young, dynamic and sincerely friendly. As a patient, athlete or sports lover, you are at the focus of all we do. Find out more about our excellently trained team and who's responsible for what tasks.
Our special services
We would like to provide you with the highest level of treatment according to best-practice methods. Unfortunately, this is not always covered by the statutory health insurance funds. That means that you as self-payer naturally have the opportunity to be treated as a private patient and benefit from all of the latest therapeutic option.
This post is also available in: German
Contact
Dr. Holger Mahn, M.D.
Niddaplatz 1
61118 Bad Vilbel
Phone +49 61 01 – 49 99 990
Private appointments +49 61 01 – 49 99 995
Fax +49 61 01 – 49 99 991
Practice Dr. Mahn
We are your specialized surgical practice for modern orthopaedics and trauma surgery covering the regions of Bad Vilbel, Frankfurt am Main, Bad Homburg, the Taunus foothills and the Wetterau region.